If you've ever been to
Yotam Ottolenghi
's eponymous restaurants in London then these
Raspberry Meringues
will be no stranger to you. You can't help but notice how the pink, billowy clouds of goodness stand out among all the other baked goods on display. I distinctly remember being mesmerized by them the first time I visited the Westbourne Grove location many years ago. Back then I never even bothered trying the meringues; call it a temporary lapse in judgement. Now, years later, I'd finally gotten around to making a copycat version for myself and I was so pleased with the results.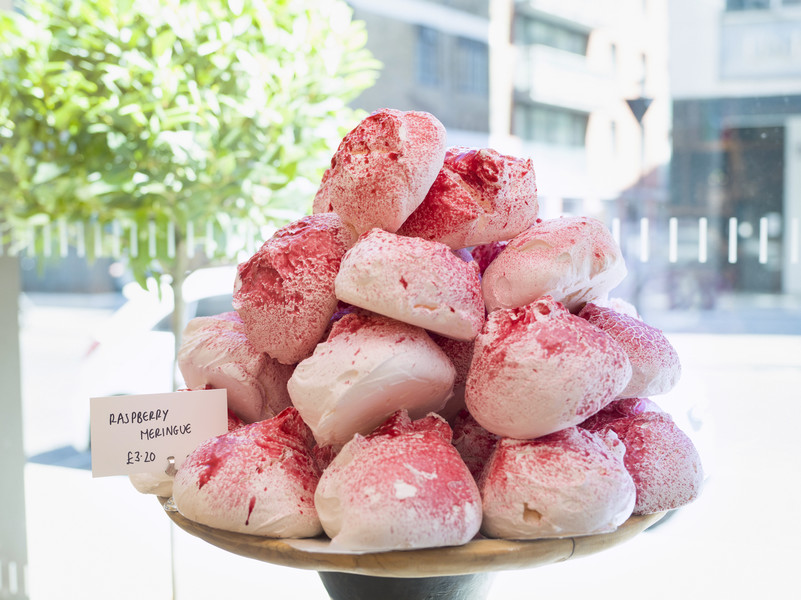 It all came about because I was in search of a dessert that was elegant, light and refreshing for a dinner I recently hosted. I had a ton of egg whites sitting in my fridge just waiting to be used and pavlovas immediately popped in to my head. The meringue dessert topped with fresh whipped cream and berries sounded like just the ticket.
I turned to my friends at
Cook's Illustrated
and found their recipe for pavlovas. As I was whipping up the Swiss meringue an image of Ottolenghi's fruity meringues popped in to my head. Fortuitously I also had a bag of
Trader Joe's freeze dried raspberries
in my cupboard. Bingo! Combine the two and you get a very legitimate replica to the original.
Raspberry Meringue
Makes 10 meringue
1 1/2 cups (10 oz) sugar
3/4 cup (6 oz) egg whites, from 5-7 eggs
1 1/2 teaspoons distilled white vinegar
1 1/2 teaspoons cornstarch
1 teaspoon vanilla extract
3 tablespoons freeze dried raspberry powder, plus more for dusting
Adjust oven racks to upper-middle and lower-middle positions and heat oven to 250 degrees.
Combine sugar and egg whites in bowl of stand mixer; place bowl over saucepan filled with 1 inch simmering water, making sure that water does not touch bottom of bowl. Whisking gently but constantly, heat until sugar is dissolved and mixture registers 160 degrees, 5 to 8 minutes.
Fit stand mixer with whisk attachment and whip mixture on high speed until meringue forms stiff peaks, is smooth and creamy, and is bright white with sheen, about 4 minutes (bowl may still be slightly warm to touch). Stop mixer and scrape down bowl with spatula. Add vinegar, cornstarch, vanilla and raspberry powder and whip on high speed until combined, about 10 seconds.
Spoon about ¼ teaspoon meringue onto each corner of 2 rimmed baking sheets. Line sheets with parchment paper, pressing on corners to secure. Spoon heaping ½ cup meringue into 5 evenly spaced piles on each sheet. Spread each meringue pile with back of spoon to form 3½-inch disk with slight depression in center. Sprinkle raspberry powder on top, if desired.
Bake meringues until exteriors are dry and crisp and meringues release cleanly from parchment when gently lifted at edges with thin metal spatula, about 50 minutes. Meringues should be quite pale (a hint of creamy color is OK). Turn off oven, prop door open with wooden spoon, and let meringues cool in oven for 1½ hours. Remove from oven and let cool completely before topping, about 15 minutes. (Cooled meringues can be wrapped tightly in plastic wrap and stored at room temperature for up to 1 week.)